Come and join us on a bicycle made for two!
We run the following tandem clubs:
Wetherby – Mondays
Harrogate – Tuesdays
York – Tuesdays
Selby – Wednesdays
Wakefield – Wednesdays & Thursdays
Ripon – Thursdays
All clubs start at 6pm and ride out between April and October. We usually find a pub to stop at on the way round for a breather and a catch up. We are always looking for more front riders to pilot the tandems, as well as needing a supply of willing back riders/stokers with disabilities to provide the power! Please contact us if you are interested in getting involved, it really is great fun!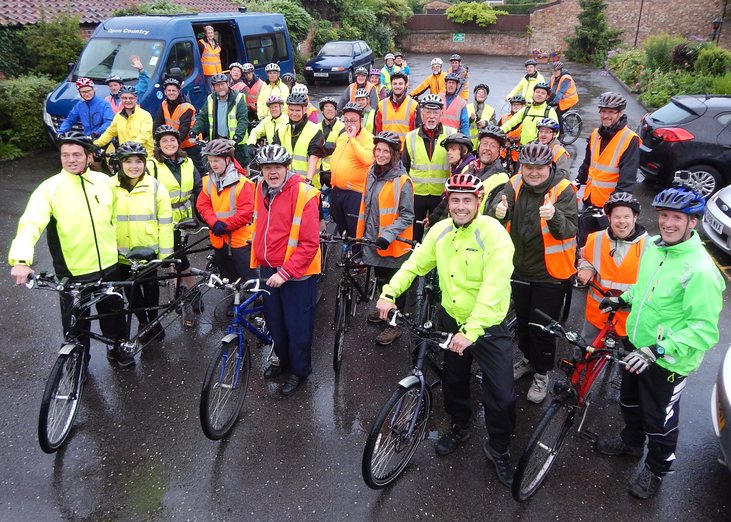 Each summer we have a cross-country tandem adventure with our volunteers and members. We've completed several long-distance rides including the Way of the Roses, the Trans Pennine Trail, Hadrian's Cycleway, Walney to Wear, Sea to Sea, as well as cycling from Edinburgh to Loch Lomond and Chester to Anglesey!
I'm really enjoying everything about volunteering – the motivation to get out cycling (even in the rain, it's strangely not as bad as you might think!), the challenge of learning something new, the fantastic company in the pub and at the same time helping other people to enjoy these things too – what's not to like about that?
Community House, 46 East Parade, Harrogate, North Yorkshire, HG1 5LT
01423 507227
Read our latest newsletter!
To understand how we will use your personal information, please read our Privacy Policy
Registered Charity No: 1107331   Company No: 5155859
© 2017 - 2023. Open Country. All rights reserved.