Thriving Charity
Open Country began in 1990 as a temporary project managed by: The Countryside Commission, Harrogate Borough Council, North Yorkshire Social Services, Harrogate Health Authority and the Fieldfare Trust and funded by Powergen, Yorkshire Field Studies Trust and Mencap. Since then Open Country has developed into a small charity with huge aims! On an average week we run up to fifteen countryside activities, catering for a range of abilities. Over the years we have been recognised by many awards including the Queen's Award for Voluntary Service in 2006.
Over 30 Years of Experience
Open Country has over 30 years of experience in successfully organising and leading countryside activities and has enabled hundreds of people with a disability to access and enjoy the countryside.
On the back of this experience, we are able to offer high-quality information, training and advice to organisations wanting to provide better access to their countryside sites and events as well as individuals and their families wishing to access the countryside independently.
Have a look at our latest Impact Report to find out more about Open Country's activities and what we have achieved in 2020/2021.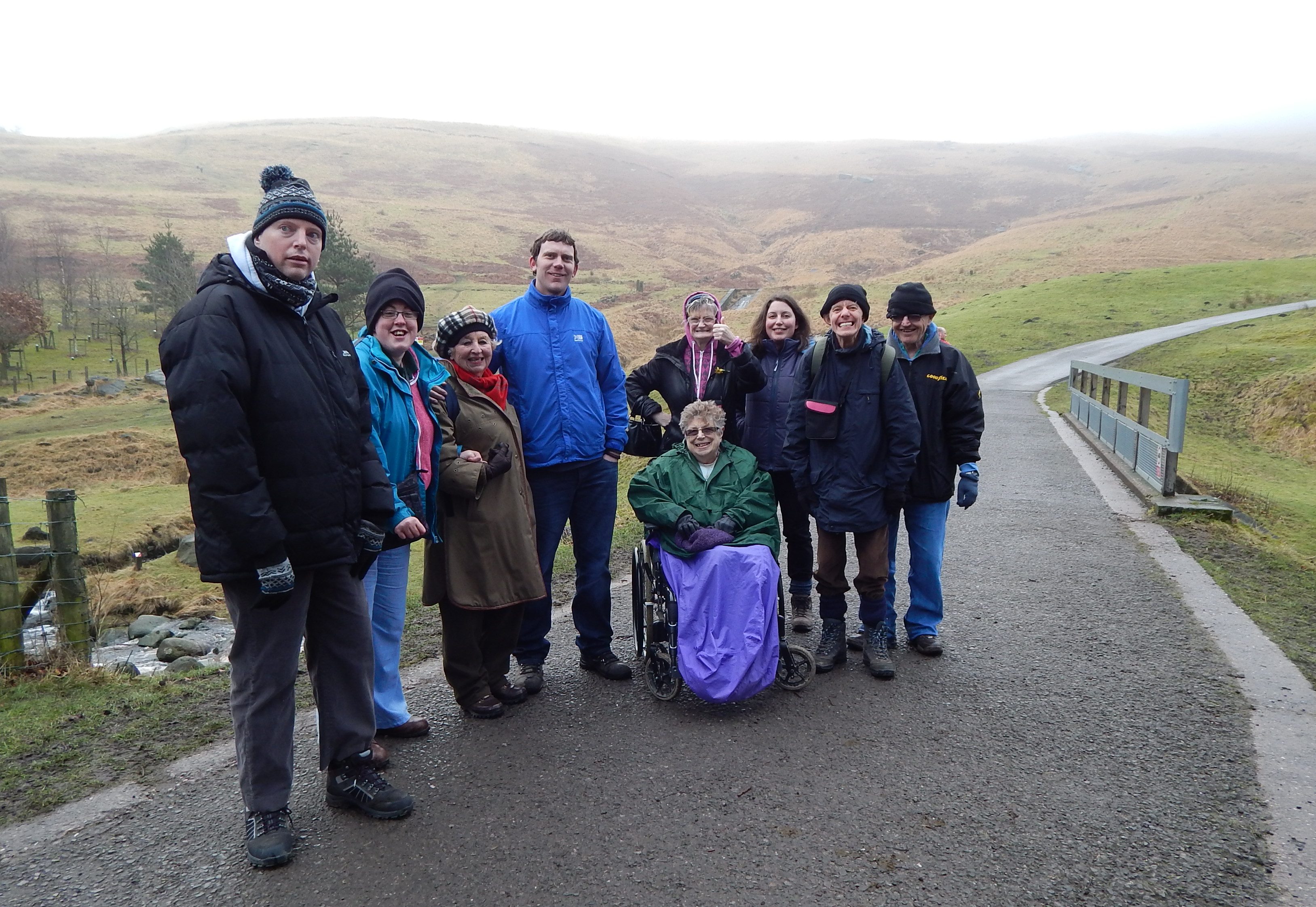 An easy going winter walk around Dove Stone Reservoir in the Peak District
Access For All 
We have produced a range of information to encourage access for all in the countryside. We offer Countryside Directories for People with Disabilities covering Yorkshire, County Durham, Lancashire and Teesside. We have also produced Breakfree Trails for the Harrogate, Leeds, Nidderdale, Wakefield and Wharfedale areas.
The Advisory Groups
The Advisory Groups (in Harrogate and Wakefield) comprise service user representatives from each activity group, volunteers, trustees, staff and other interested parties. The groups meets three times a year and provide a chance to feedback on activities we have run, as well as helping decide which direction we should be going in.
Trustees 
We have a board of five trustees who are responsible to the community, The Charity Commission and Companies House. Between them they have a wide range of experience, including finance, business and marketing.
Patrons
Open Country is delighted to have two high-profile patrons, Lord Willis of Knaresborough & Harrogate and Air Commodore Simon Bostock. Paralympian David Stone MBE is our Cycling Ambassador. Their input is invaluable in all aspects of Open Country's work.
Community House, 46 East Parade, Harrogate, North Yorkshire, HG1 5LT
01423 507227
Read our latest newsletter!
To understand how we will use your personal information, please read our Privacy Policy
Registered Charity No: 1107331   Company No: 5155859
© 2017 - 2023. Open Country. All rights reserved.