After over a year in the making, our newest outreach project – 'Wild about Wakefield' – has finally got off the ground! To celebrate we thought we would let you in on a few gems about this West Yorkshire District.
It boasts 16 Local Nature Reserves. 
Wakefield District has the highest amount of hidden wildlife spots out of any West Yorkshire local authority; special places like Yorkshire Wildlife Trust Stocksmoor Common with its fields full of funky wavy-hair grass and RSPB Fairburn Ings with its world-famous pair of nesting spoonbills. Who else is excited about getting out and about to see what else Wakefield wildlife has to offer?
Wakefield is known as the capital of the rhubarb triangle. 
Open Country groups have run allotments where we have grown huge supplies of rhubarb, it has been used as a prop in Open Country dance routines and even used as a make shift, emergency umbrella. What creative new ways can Wakefield residents find for celebrating their famous vegetable?
The most prominent landmark is Wakefield Cathedral.
The tower and spire together are 247′ high (the tallest in Yorkshire). Peregrine falcons have been breeding on the side of the cathedral since 2015 and during the early summer months you may be able to get a glimpse of the young birds flying about! Find out more through the Wakefield Naturalists' Society website – http://wakefieldnaturalists.org/?page_id=1491
There is a network of 560km public Rights of Way and permissive paths, along with a 20km section of the Trans-Pennine Trail. 
How long will it take Open Country to walk, cycle and skip around all of these routes?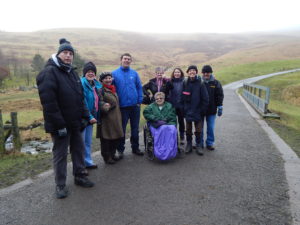 The famous nursery rhyme 'The Grand Old Duke of York' is from the Battle of Wakefield in 1460. 
The wider Wakefield area is steeped in history and heritage sites from Pontefract Castle to the various reclaimed collieries, which mean there will be plenty of options for outing choices over the the next few years.
Whilst the project is in its infant stages we hope to draw in local people with any disability who want to spend more time outdoors, experience fun adventures and meet new people. If anybody knows any likely candidates who may want to be involved, please do let them know about the project. Even though here in the office we are singing from the rooftops about this new project, we know from previous projects that word-of-mouth from our current supporters has had a huge effect on our reach as a charity, especially in new areas. Do you know any keen cyclists who would fancy piloting a tandem? Do you know anybody with a learning disability that may want to try their hand at dry stone walling? Do you know anybody with a physical disability who may want to gain confidence in accessing the walking routes in the area? We want to hear from you all!
Given the scope of the conservation work we shall be carrying out and the range of activities we will be trying our hand at, we are appealing to anybody who may be able to help us with tools, equipment and supplies. If any of you would like to support us with this, or have any suggestions for places to contact regarding this, we would be eternally grateful and be sure to thank you with an unlimited supply of cups of tea and ginger nut biscuits!
I hope to see you soon in sunny Wakey.
Ella