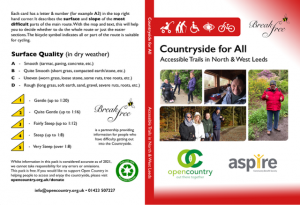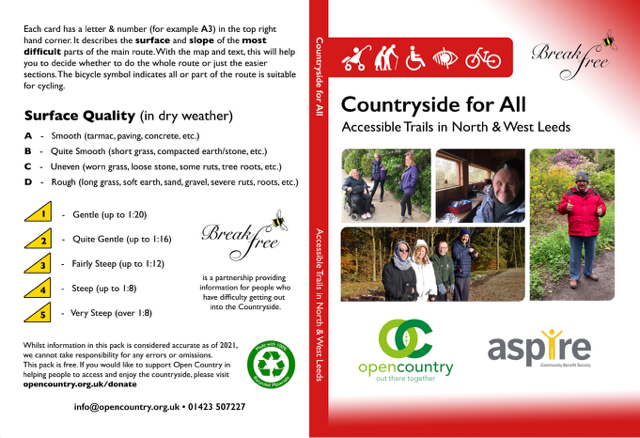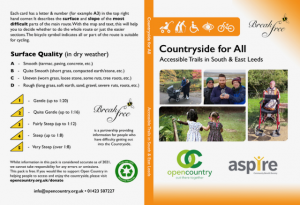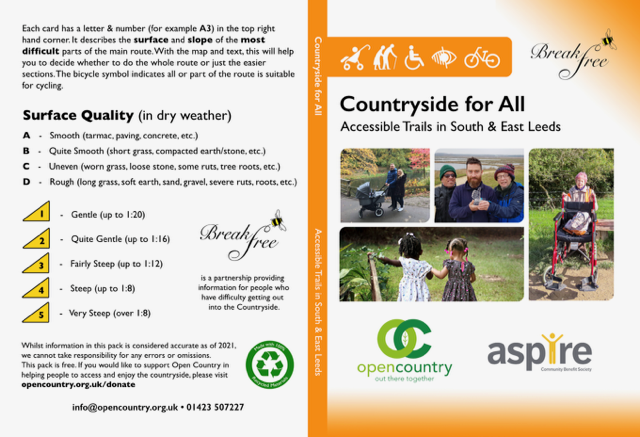 We are thrilled to be launching the latest in our series of 'Breakfree' packs, this time sharing inspiration and information on great places to walk and cycle across the Leeds city region.
The brand new packs are free to download on our website here www.opencountry.org.uk/breakfree
Take a look at our launch video here: Leeds Breakfree packs launch video
Although the packs have been developed with disabled people in mind, they have a much wider appeal to families with young children and pushchairs, anyone who might struggle with exercise and older people with limited mobility
About the packs
The two packs cover Leeds North & West and Leeds South & East and feature 24 short trails around parks, nature reserves and reservoirs across the city region including:
Leeds North West – Wharfemeadows Park (Otley), Gallows Hill Nature Reserve (Otley), Harewood Deer Park, Tarnfield Dam (Yeadon), The Aireborough Greenway (Guiseley to Yeadon), Golden Acre Park (Bramhope), Breary Marsh (Bramhope), Roundhay Park, Rodley Nature Reserve, Leeds-Liverpool Canal (Calverley to Apperley Bridge), Kirkstall Abbey, Farnley Hall Park
Leeds South East – Parlington Wood (Barwick-in-Elmet), Wyke Beck Way (Killingbeck to Roundhay Park), Temple Newsam Park, Thwaite Mills & The River Aire, The Lines Way (Garforth to Allerton Bywater), Aire & Calder Navigation (Woodlesford Lock), RSPB St Aidan's Nature Park (Allerton Bywater), Middleton Park, Middleton Nature Reserve, Churwell Urban Wood (Morley), Dartmouth Park (Morley), Oakwell Hall Country Park (Birstall)
The individual route cards give a detailed trail description of the terrain, gates or barriers, the gradient, as well as features of interest including play areas, wildlife watching opportunities and information boards. The route cards also include the public transport options and list if there is a cafe and WC facilities and whether these are accessible to all.
David Shaftoe is Open Country's Chief Officer. He says: "Our new Breakfree packs are a real celebration of some of the green spaces in our urban and rural environment. Residents of the city are lucky enough to have over 800 kilometres of Public Rights of Way and permissive paths available to walkers and cyclists, as well as 62 community parks and several nature reserves – so many opportunities for outdoor adventures!
"Our Breakfree packs feature the most accessible of these places, detailing everything you need to know to make an experience in the outdoors more enjoyable and demonstrate just how easy it is to access some great places on our doorstep."
Our supporters
We are delighted to have received support for these packs from City Connect, a project led by the West Yorkshire Combined Authority, which enables more people to travel by bike and on foot around the county.
Tracy Brabin, Mayor of West Yorkshire, said: "I pledged to make our region more inclusive, and enabling people with disabilities and mobility issues to access to our parks and nature reserves is an essential part of this. Green spaces are often a focal point for the community, providing welcoming places for people of all ages and abilities to enjoy walking and spending time. Through support to valuable organisations like Open Country, we can help make these spaces accessible to everyone and West Yorkshire a great place to live, for everyone."
As well as being free to download and available to pick up at some of the sites featured, groups and individuals with disabilities can also drop us an email to  get hold of a FREE printed version of the Breakfree pack info@opencountry.org.uk
Audio Walks
If you can't get out to enjoy these routes, you might be interested to listen to our Audio Walks which help bring the #OutdoorsIndoors and feature some of the destinations within the Leeds Breakfree packs:
Listen to  all our Audio Walks for FREE at www.opencountry.org.uk/audio-walks
Our team's favourite walks
Ella says: "I love the walks in these packs. Many of these places act as little havens for wildlife within the busy urban areas around them, so are great to visit when you need some greenery and nature or a break from city life. My favourite routes are Dartmouth Park and Churwell Urban Woodland. They are only short routes but both sites have lots to offer throughout the year. At Churwell the beck runs down through the woods so it feels lovely and tranquil. The woodland looks great in autumn when all the leaves are changing colour. The volunteers there do a great job in keeping it tidy and looking smart, and they have even put in a sensory garden in recent years. Dartmouth Park has lots of great birds to spot, including mistle thrushes on the playing fields and woodpeckers drumming in spring. The path around the park is lovely and wide so can accommodate a lot of different users."
Tom says: "I have lived just down the road from Yeadon Tarn all my life. I have many happy memories from my childhood; feeding the ducks, pretending to be a fisherman and watching concord (amongst other planes), landing and taking off at Leeds/Bradford airport."
Kate says: "One of my favourite spots is Rodley Nature Reserve . When you're walking around the site surrounded by trees and wetlands, it is hard to believe it is so close to Leeds. With many hides dotted around, it's a great place to sit and watch birdlife. Watch out for the elusive kingfisher, I have spotted it a few times… and don't forget to pop into the visitor centre for the all important tea and biscuits!"
David says: "For me, you can't beat RSPB St. Aidan's. I saw my first-ever black-necked grebes here and on another occasion a bittern flew right over my head. In truth, there is always something magical to see. Leeds is so lucky to have so many wildlife gems in the Aire Valley and such wildlife abundance must be the envy of many other cities".
Lizzie says: "Me and my family love Wharfemeadows Park as it has something for everyone. The play area is a big draw for my two young girls and we love wandering along the path and crossing over the river into Gallows Hill Nature Reserve – you soon feel like you're in another world with so much nature to explore."
Seasonal highlights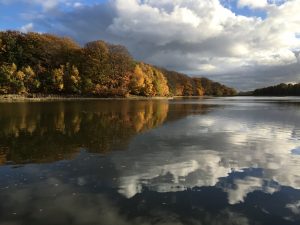 Best for autumn colour: Roundhay Park
The woodland surrounding Roundhay Park is radiant with colour in autumn. If you go on a still day, the reflections in the lake will take your breath away!
Best for blackberries, daffodils & snowdrops : Temple Newsam Park
When it comes to seasonal colour and fruits, Temple Newsam has it all. You can also witness the vibrant colours of the rhododendron flowers in summer.
Best for bluebells: Middleton Park
During late May and early April the woods at Middleton Park are a wash with colourful, aromatic bluebells.
Best for birdwatching: Rodley Nature Reserve
From wading birds to kingfishers and from pond dipping to mini beast hunting, Rodley Nature Reserve is an amazing place to get close to wildlife.
Best for views: Harewood Deer Park
As you walk through the park, stunning views of the Wharfe Valley open out before you from the dramatic Arthington Viaduct to Ilkley Moor and the Yorkshire Dales beyond.
Best for cycling/scooting: The Wyke Beck Way
The Wyke Beck Way cuts a green corridor through busy urban areas of Leeds, allowing you to bypass busy roads and enjoy the ambiance of the countryside in the heart of the city.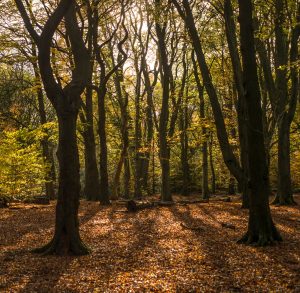 Best for kids: Golden Acre Park
Whether it is playing in the leaves in the autumn, sledging down the hill, wildlife spotting or den building, Golden Acre Park is perfect for children of all ages.
Download the NEW Leeds Breakfree packs at www.opencountry.org.uk/breakfree Groups and individuals with disabilities can also contact the charity to get hold of a free printed version of the Breakfree packs by emailing info@opencountry.org.uk The packs will also be available to pick up from many of the sites featured.
#OutThereTogether