We are celebrating National Allotments Week this week! The theme for 2020 is 'Growing Food for Health and Wellbeing', a reflection of the many benefits of growing, cooking and eating your own fruit and vegetables.
At Open Country we know all about 'growing your own' and have whiled away many a happy hour down the allotment with our members and volunteers sowing seeds, tending to our crops and most importantly enjoying the fruits of our labour!
We have used the produce from the Open Country allotment to make fruit jams, chutneys, onion soup, courgette fritters, onion bajis, sag aloo, salads and vegetable hotpots, kebabs and stir fries, as well as baked potatoes and barbequed sweetcorn. Mmmm, a veritable feast of vegetables and fruits… delicious!
We have entered the National Allotments Week's competition by submitting a video with the theme 'What my Allotment Means to me'. You can see our video here.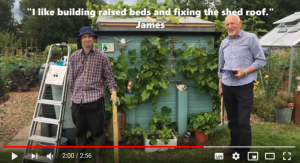 Open Country volunteer Lizzie says: "We love popping by the allotment when we're on our walk with our two girls. It's always fun to see what is growing and to sneak a few strawberries or whatever is in season. It's a lovely spot to sit back, enjoy the fresh air and spot wildlife."
If you are on Facebook you might also be interested to see this Allotment update video Kate put together during lockdown.