Just before Christmas, Open Country presented their Good Access Scheme award to Experience Community and Yorkshire Water. The  joint award is in recognition of the exceptionally good working relationship between Experience Community and Yorkshire Water, who have done so much to improve the access on their landholding in Yorkshire recently. We are particularly appreciative of their efforts at Fewston Reservoir and Tophill Low. The trophy was presented to Craig Grimes (Experience Community) and Geoff Lomas (Yorkshire Water) by members of Open Country at Fewston Reservoir.
The Open Country 'Good Access Scheme' was launched in 2015. The aim was to recognise annually the best countryside 'access for all' projects, initially in Yorkshire. Schemes can be suggested by the disabled people who actually use them. In the first year we were pleased to give the award to Otley Town Council for its work on Gallows Hill Nature Reserve and to the Lower Ure Conservation Trust for its work on Nosterfield Nature Reserve. Both awards were primarily for their extensive path improvement schemes.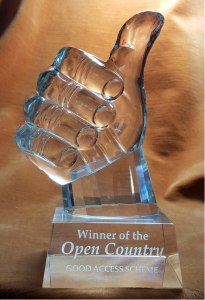 Last year awards went to RSPB Fairburn Ings for their huge amount of access work which has been achieved at this wonderful wetland reserve near Castleford. A wheelchair accessible walk of up to four miles along the River Aire is now possible from the visitor centre. Nostell Priory near Wakefield also achieved an award for their new surfaced paths. Nearly 1.2 km long, they are designed to give more opportunities for disabled visitors.
On your trips into the countryside this year keep in mind our award scheme and if you have an idea for a worthy winner, please do let us know. It might be improvements to a path or perhaps a place of interest that has recently gone the extra mile to welcome disabled people. Award winners are chosen by our Advisory Group each November and trophies are presented in December.