As we approach our 30th year of enabling people with a disability to access the countryside, we thought it was time for a fresh new look to take us into our next chapter. After months of hard work behind the scenes, some crying, laughter and a few tantrums, we are delighted to launch our new logo and strapline which we hope you like!
We had the fantastic support of Ian Ladley and team at Skinny Design who guided us through the design process to come up with a clean and fresh new look for Open Country. We can definitely recommend their work!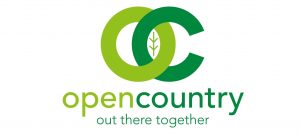 Over the next few weeks you will start to see the new logo appearing on all our clothing, newsletter, literature and the buses and it is with slight sadness that we say goodbye to the old logo which has served us so well. There'll always be a place in David's heart for the compass!
Here's to the next 30 years of getting #outtheretogether!