We're increasingly aware that disabled people want the same ability to access 'Bluespace' (or 'water', as we used to call it!) as anyone else. This might, for example, be the ability to access canal boats, have ramped access to wild swimming opportunities or to enjoy accessible water-based events.
There undoubtedly isn't as much inclusive access to Bluespace as we'd like, so we're starting to campaign for better access to Bluespace for everyone. To dip our toe into the water, we've just added a Bluespace page to our website, where you can read all about our current activities and projects including our new Bluespace Breakfree Pack, our latest Bluespace Audio walks and our Bluespace Report. We have also compiled a list of Bluespace venues and activities in Yorkshire. Obviously, we'd urge you to make sure that all Bluespace venues are suitable for your abilities. Do let us know if you have any ideas or favourite places you would like us to add.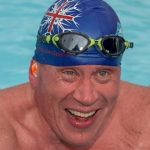 Continuing with the Bluespace theme, we'd like to congratulate Open Country trustee Jonty Warneken, who recently became the first amputee to swim the North Channel from Northern Ireland to Scotland – solo! He completed the stupendous feat in 15 hours and 24 minutes. The distance across the North Channel is 21.4 miles as the porpoise swims, but with currents sending him off course, Jonty ended up travelling an incredible 33.5 miles! The North Channel is thought to be the toughest of the 'Oceans Seven' swim challenges. It is slightly longer than the English Channel, the water tends to be colder and there are strong currents and Lion's Mane jellyfish to battle with! Indeed, Jonty was stung several times, including in his mouth and on his neck!
Jonty is kindly raising money for Open Country and, to date, has raised an incredible £5,000. If you feel able to support him, his donating page is: https://www.givey.com/jontysncsolo
Thank you very much!